Every day on Facebook, I see pictures of babies and kids of people I've never even met, let alone "friended" on Facebook. Harmless, right? I'm an educator who is trusted other people's kids all the time. The problem is, if I can see your kid's pictures, it usually means anyone with a Facebook account can too.
How does this happen?
If your Facebook privacy settings are not restricted to just 'Friends', all it takes is a like or a comment from a friend for your baby's photo show up in their friends' Facebook feeds, and who knows who those people are!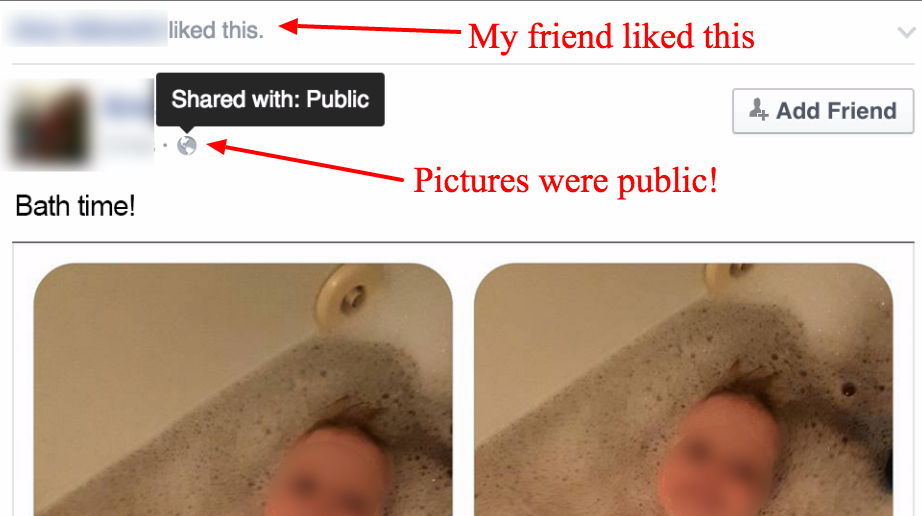 Worst case scenario, your content is set to public and anyone who looks at your profile or searches a related subject can see your post. Suddenly "Baby's first bath" is viewable by anyone searching for baby and/or bath!
You may have even restricted your profile once before, but each post and photo has it's own privacy setting independent from your profile, as well as any games and apps you may have used, e.g. your Instagram pictures shared on Facebook may be public, even if both your Instagram feed and Facebook profile are private!
It's time to do a privacy audit and make sure your Facebook content is as private as you want it to be…
Checking your Facebook privacy settings
Start with a privacy checkup
Facebook has added a privacy checkup feature that will walk you through privacy settings for:
future posts,
your app settings,
and your profile visibility.
To access the privacy checkup, click the question mark icon in the upper right and click Privacy Checkup. In each step change the privacy to "Friends" (or a more restricted group, if you have one) to prevent others from seeing your posts.
While checking app settings, it's also a good idea to remove any apps that you no longer use, so that they no longer have access to your Facebook data.
Limit previous posts too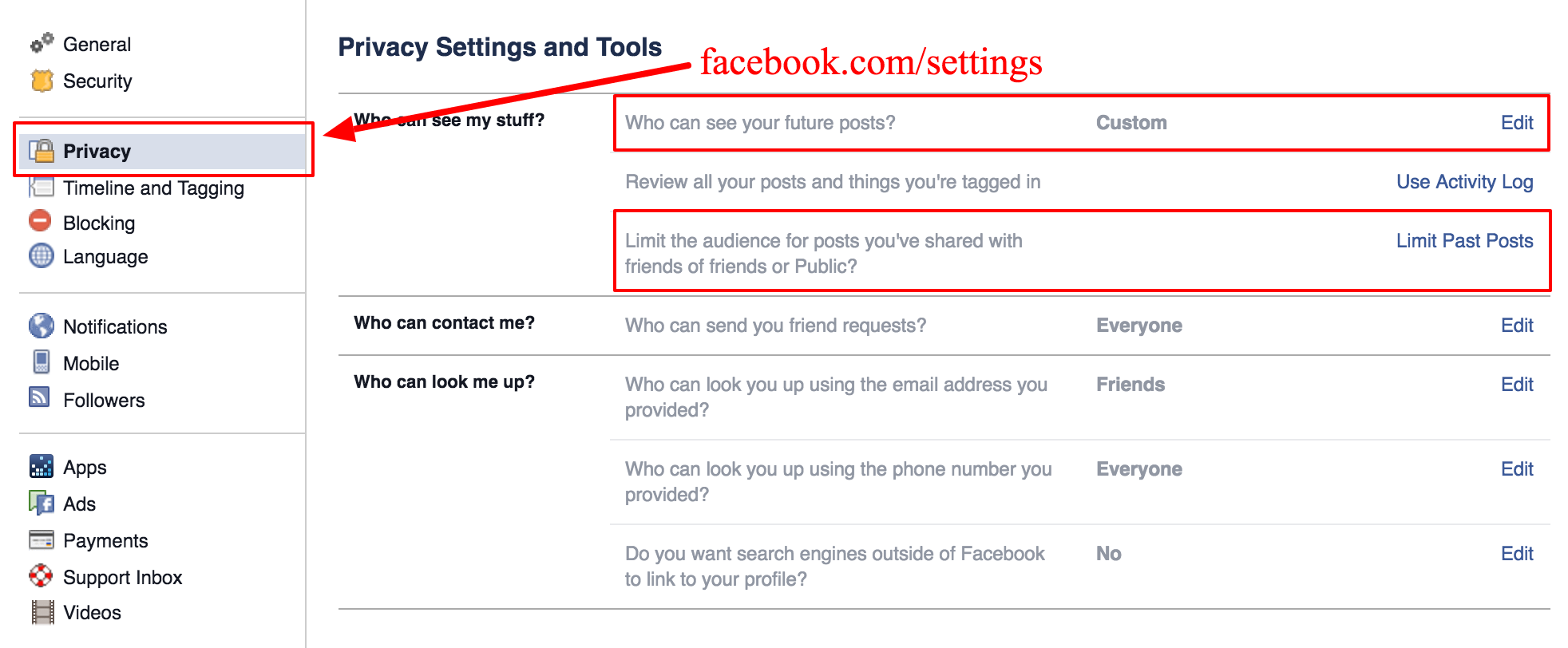 The privacy checkup is a good start, but you'll want to check the privacy of your past posts and other privacy settings, such as who can tag you in a post. To restrict visibility of past posts:
Either click the drop-down arrow in the upper right – next to the help icon – and select Settings or go to facebook.com/settings.
Click on the Privacy tab on the left menu
Click Limit Past Posts
To limit who can tag you in a post or who can see your tagged posts, click the Timeline and Tagging tab on this same page and review each of the settings.
Don't just set it and forget it
When you create a new post, Facebook defaults to whatever setting you last used. For example, if you shared a link to a fundraiser publicly, the next thing you share will also be public. Every time you post, take a glance at the audience box and set it accordingly.
Be careful of what you share – even with friends
Nothing is ever truly private
People are careless and forgetful. Assume your friends may lose their phone, accidentally leave themselves logged into Facebook at the Apple store, or otherwise expose their Facebook account to the world. You don't have to be paranoid, just assume that it's not always just your friends looking at your posts.
Don't post naked baby pictures, ever
To normal people like you and me, a photo of baby's bath or a naked toddler gleefully running through a sprinkler on a hot day is just a cute, innocent photo of childhood; unfortunately, there are perverted people who think otherwise and they're on the Internet. In order to protect our children from such people, the United States has made it illegal to share pretty much any picture of a child undressed and parents have even been arrested. Better stay safe than sorry and keep these Kodak moments to yourselves.
See the Profile & Timeline Privacy section of the Facebook Help Center for additional information and instructions for securing your Facebook profile.